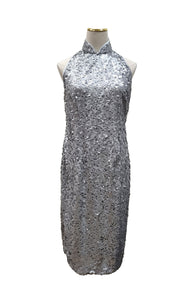 A modern style Cheongsam made with bold silver sequins. This bold piece has a side-zip closure. Perfect for dinners, parties, events, and more. 
Material: Sequin Fabric
Colour: Silver
Style: Sleeveless, Midi-length
Larger sizes can be altered to fit smaller sizes, and alterations can be made (chargeable) so that we can achieve the perfect fit for you. 

All Mama & Misse cheongsams are handcrafted and made in limited quantities.