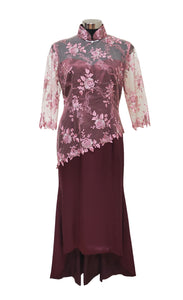 A 3/4 sleeve Cheongsam made with Satin and Lace fabric. This piece has a back zip closure with beautiful handmade embroidered buttons. Perfect for formal dinners, events, ROM, parties, and more.
Material: Satin and Lace
Colour: Maroon
Style: 3/4 Sleeve
Larger sizes can be scaled down to fit smaller sizes, and alterations can be made (chargeable) so that we can achieve the perfect fit for you. Feel free to visit us for fittings and alterations if required.
All Mama & Misse cheongsams are handcrafted and made in limited quantities.